Everything You Need to Get the Job Done
Metropolitan stocks a huge selection of installation accessories for all our flooring products. Find everything you need to install and maintain Kentwood and Evoke floors, including Pro Series underlay and acoustic solutions, adhesives, custom vents, color-matching trims and transitions, and floor care and maintenance products.
Recommended Adhesives for Kentwood Floors
Our exclusive Pro Series line of adhesives deliver top quality performance in a dependable, affordable package and are recommended for Kentwood engineered hardwood floors. For additional product details and pricing, contact us. 
Recommended Adhesives for Evoke Floors
Our line of vinyl adhesives deliver top quality performance and have been vetted by Metropolitan's Technical Services for dependability. 
Recommended Underlay & Acoustic Solutions
Metropolitan carries a complete line of underlay, including a selection of acoustic solutions for all kinds of situations. Metropolitan's Technical Services can assist you in developing an acoustic flooring solution that meets the individual requirements of any project, big, or small.

We can design a solution that includes recommended floor preparation materials, adhesives, acoustic underlay, and flooring options. Installations that conform to material and method recommendations may be eligible for a Full System Warranty through Metropolitan. 

Are you interested in learning more about acoustic solutions? Read Acoustics 101.   
Custom Vents Complete the Look
As a flooring professional, you know vents are a perennial headache. Depending on the product, you may need to order vents from multiple suppliers, and stock covers often don't complement the décor or match the flooring. Custom-made options—if even available—are expensive and often take weeks to get, necessitating a call back to install them. Aria Vents' custom vents solves these problems and are a better option.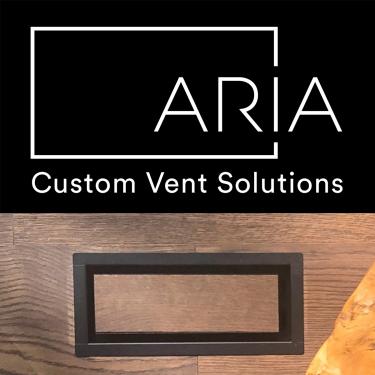 ARIA: ONE SOLUTION FOR ALL YOUR VENT NEEDS
These smart, elegant units perfectly match the flooring every time because they actually incorporate the flooring material into the vent cover.  They can be used with virtually any type of flooring product from any manufacturer, so you can fulfill pretty much all of your vent needs with just a couple of stocking products. Aria Vents are quick and easy to install, too. 
Metropolitan offers the two of Aria Vent's most popular vent products: (1) The OG Collection and (2) the Flushmount Pro. The original OG Collection, a self-rimming style that can be used in new installs or to retrofit or replace existing vents. Simple and quick to install, too. The sleeker Flushmount Pro is designed for installation at the same time as the flooring material and provides an even cleaner finished appearance. 
Product Features:
Compatible with all types of flooring from any manufacturer
Customizable with any style of hardwood, tile, laminate, carpet, etc.
Designed & made in Canada
Solid steel construction
Matte black powder-coated finish
Adjustable airflow comparable to traditional grill-style vents
Quick & simple same day install – no callbacks!
Available in six sizes: 3"x10", 4"x10", 4"x12",  4"x14", 6"x10", and 6"x12"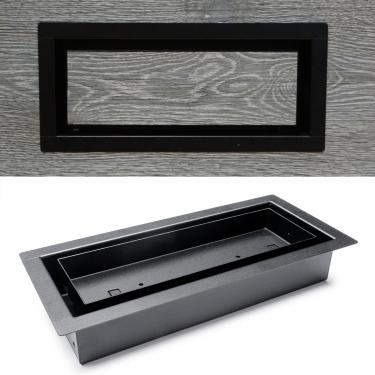 Self-rimming design
Ideal for retro-fitting in existing surfaces
Made for floor, wall, or ceiling install
Suitable for do-it-yourself projects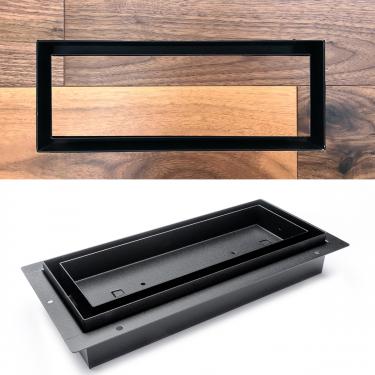 Installs on subfloor level prior to flooring
Made for floor installation only
Professional installation recommended
Clean, minimalist design
Moldings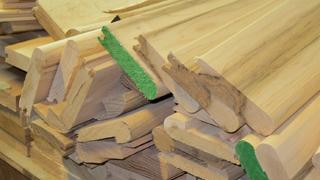 Metropolitan's moldings program offers custom-matched moldings in a variety of profiles for virtually every Kentwood and Evoke floor.
Moldings for Kentwood floors are manufactured in six standard profiles, including:
Quarter Round
Cove Base
End Cap
T-molding
Stair Nose
Reducer
View Kentwood installation accessories or visit our literature section to download Kentwood or Evoke flooring transition profile specification sheets. 

For assistance ordering installation accessories for Evoke floors, contact us or place an online order with Versatrim, our trusted moldings partner.
Care & Maintenance
Metropolitan has everything you need to keep Kentwood and Evoke floors looking their best. Our line of Pro Series Therapy floor care and maintenance products are specially formulated to dry quickly and leave no residue. Visit the Pro Series online store to place an order.